Metro Triangle
Opening Reception, Friday Nov 2nd 6-9pm, Exhibition Nov 1 - January 17, 2008
Metro Triangle Exhibition includes photographs from an open artist call to the community of local professional and amateur photographers above the age of 21. Cameras used include large format film, pinhole, Polaroid and digital, and the prints vary from hand-colored, platinum/palladium, silver gelatin and stretched canvas.

As our two month holiday exhibition, Metro Triangle presents both familiar and unexpected views of the area including architecture and skyline views, classic area scenes from the State Capitol, State Fair, Durham Bulls Ball Park, as well as portraits of people around town.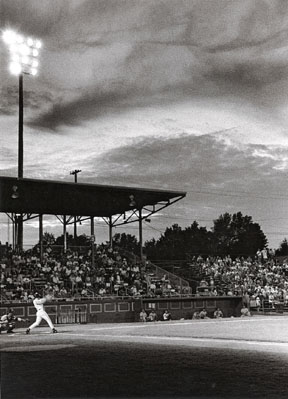 "Unsquare Dance" Jean-Christian Rostagni, 1995
The Artists:

Jodie Bartholomew, David Bibb, Diana Hooper Bloomfield, Katie Britt, Carson Boone, Michael Brooks, Stan Crocker, Paul Dagys, Ellen Giamportone, John Greene, Mary Shannon Johnstone, Mary Kolliner, Jodie Mason, Bruce Matheny, Alison Overton, Bryan Regan, Jean-Christian Rostagni, Sterling Stevens, Hunter Hilton Tapscott, Tim Telkamp and John Wall.