Jane Terry
A Matter of Time
Opening Reception, Wednesday Jane 30th, 6-8, Exhibition Jan 26 - Feb 23, 2008
A Matter of Time, Jane's latest body of work "explores a web of time circling the death of my mother, Patty Marie. I am still inextricably bound to her. Events in my life now reference her death, something I did not understand before I experienced this profound loss.

This series emerged from the process of collecting remnants of loss that substitute for Patty's physical presence or mark the passage of time since her death. I confess that I keep two tiny bundles of her hair in a wooden box on my dresser. My own hair is a personal marker of time and cutting it is now a ritual of severance. I associate hair with the photograph as another form of aiding remembrance. The images are a strange autobiographical journey into loss, ritual and dream.

From a deeply personal perspective, I hope to convey collective human experiences of loss and memory."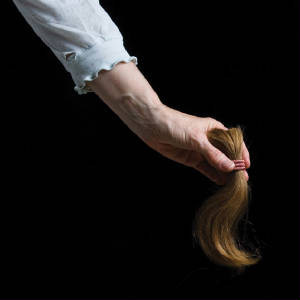 About The Artist
Through photography, Jane Terry seeks to connect the physical world with the timeless nature of the spirit. Personal myths and truths are often reflected in her work, and current images reflect strange autobiographical journeys into loss, ritual, dream and memory.

"The images that I produce result from a blending of spontaneity, chance, and intervention as I explore the depth of meaning encountered in daily living. Making photographs is a process of revelation as epiphanies surface with certain images that continue to haunt and inform. This intuitive process instills in me feelings of fear, veneration, and delight. My hope is that this work conveys abstractions that evoke a sense of life's infinite mystery."

Jane Terry is a native of Raleigh, North Carolina. She received her Bachelor of Fine Arts degree from UNC Chapel Hill in 1976 and Master of Fine Arts degree from Tyler School of Art in Philadelphia in 1991. She also studied at the San Francisco Art Institute. Jane is Associate Professor of Art at Meredith College in Raleigh, where she has taught since 1993. She has exhibited at the NC Museum of Art, San Francisco Art Institute, Louis K. Meisel Gallery in New York City, Temple Gallery in Philadelphia, Jacksonville Museum of Modern Art in Jacksonville, FL, Artspace Gallery in Richmond, VA, Wake Forest University Fine Arts Gallery, and Gregg Museum of Art and Design at NCSU. She has received numerous grants including the Peter and Madeleine Martin Foundation for the Creative Arts, two United Arts Council of Raleigh Regional Artist Project Grants, and many grants from Meredith College in support of her teaching and professional development.