Five Photographers
Opening Reception, Friday March 11th, 6:30-8pm Exhibition April 2-26, 2008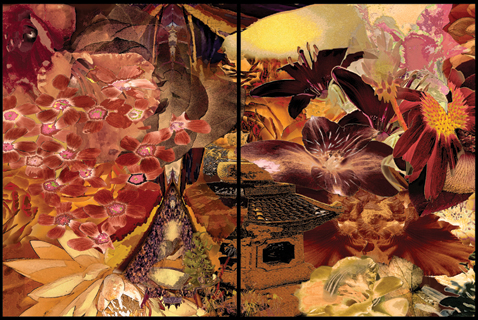 "Pagoda" Paul Gentille
About The Artists
Paul Gentille creates digitally manipulated photographic collages of botanical subject matter. His current work focuses on large scale triptychs. Paul has exhibited at the Visual Art Exchange, the Greenhill Center for Art, and most recently in the North Carolina Artists Exhibition at the Progress Energy Center for Performing Arts, juried by Dr. Larry Wheeler.

Jean-Christian Rostagni was born and raised in the Rhone valley of France and has devoted the 26 past years to the practice of fine art and portraiture photography. He has been the recipient of an Emerging Artist Grant from the Durham Arts Council and had his work published by Le Monde, Elegant Bride, Marie-Claire, the O.E.C.D. Observer, etc, as well as by Art postcard publishers.

Jane Terry is a native of Raleigh, North Carolina and is Associate Professor of Art at Meredith College in Raleigh, North Carolina, where she has taught since 1993. She has received numerous grants including the Peter and Madeleine Martin Foundation for the Creative Arts, two United Arts Council of Raleigh Regional Artist Project Grants, and many grants from Meredith College in support of her teaching and professional development. Her intimate portrait series A Matter of Time was featured as a solo exhibition at POV in February, 2008.

Ron Ward creates images that are strikingly contemporary and evocative in their use of color and abstract form. Light bounces off reflective surfaces creating lines and forms that trigger the subconscious mind into making associations. His work is printed on Kodak Endura paper and mounted on optical Plexiglas. The result is a sleek, modern presentation that complements the images' bold subject matter.

Bruce Watson is a predominately self-taught photographer, but has studied with technological pioneers such as Jon Cone, the originator of the Digital Platinum system for IRIS printers and the originator of PiezoTone inks. Bruce's work focuses on the visual importance of scale in photography. He describes the western photographic perspective as being one of large sweeping vistas. By isolating and enlarging details from these vistas to grand proportion, he creates intimate and refreshingly different views.