Collage Through Camera Through Chance
Peter Filene
Opening Reception, Friday April 6th 6-9pm, Artist's Talk April 13th 6:30-8pm, Exhibition April 4-30, 2007
Peter Filene's photographs are informed by a self described urban sensibility. Growing up in New York, he was greatly influenced by street scenes and by the work of photographers such as Cartier-Bresson and Robert Frank. Also inspired by the combines of assemblage artist Robert Rauschenberg, which were made in the gap between art and life, Peter began experimenting with double exposures, creating his own collage-like integrations.

Shooting most often in museums such as the Metropolitan and the Musee d'Orsay, Peter's work focuses on blending paintings or sculptures with people. He describes the process as a game played between intention and chance. I harbor in my mind's eye the shapes, colors, and proportions of the image that waits behind the shutter. Then I prowl in search for a piece of art that will be, if I'm lucky, its perfect mate. I shoot again, but I don't know the outcome until I return home and see the prints.

When two images fall into place, intention and chance - art and life, come together to create a synergy more compelling than either singular image. It is this ongoing mystery that intrigues the artist and fuels his work.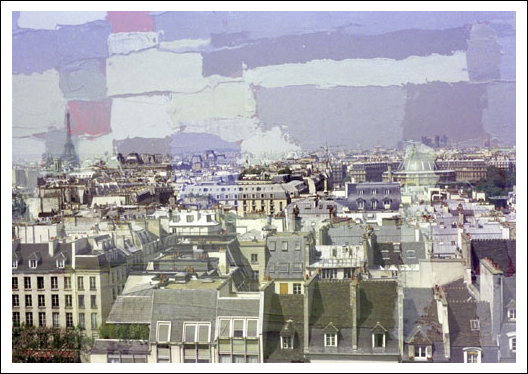 "Paris from the Beaubourg (2)" Peter Filene
About the Artist:
Peter grew up in New York City and has lived in Chapel Hill since 1967, where he teaches American History at the University of North Carolina. In addition to his work as professor, Peter has published several books on historical topics, as well a novel. His photography has been exhibited and awarded in juried shows throughout the Triangle, as well as in Charlottesville, Virginia where he is represented by The Migration Gallery. This is Peter's first solo exhibition with Points of View.